The London Coliseum saw yet another dazzling presentation of Gilbert & Sullivan's 'Iolanthe', seamlessly merged with Cal McCrystal's touch of contemporary satirical brilliance. When classic meets modern, there's always a risk of tampering too much with the original; however, this rendition finds the right balance.
It is, without doubt, a world of gleaming fantasy – a delight where the lines between the fairy realm and parliamentary world whimsically blur. The play's essence, the oft-turbulent love tale of Phyllis and Strephon, is perfectly underscored by the politics of love, jealousy, and, indeed, Parliament itself. The tale of young love thwarted by the very man who desires Phyllis, the Lord Chancellor, is as enchanting as ever. The subtle jibes at notable Victorian figures provide a gentle historical rib-tickle, ensuring the operetta remains as relevant today as it was during its first performance.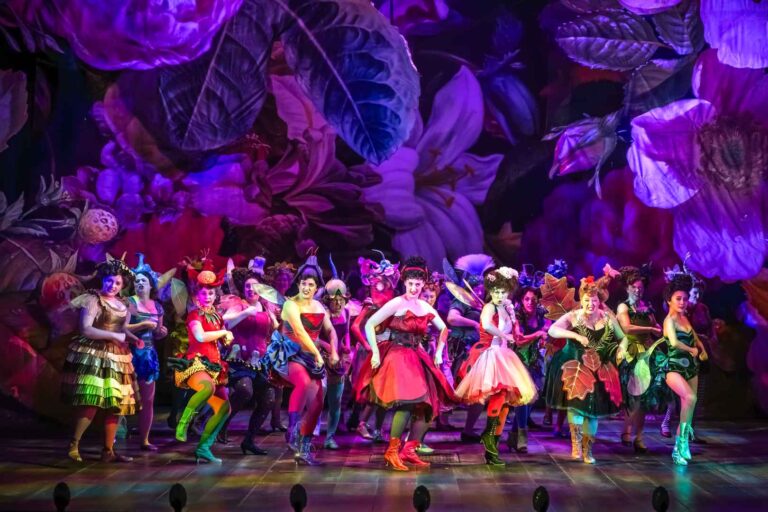 Under Chris Hopkins' baton, the music wafts across the theatre like a soft breeze. Fleeting Wagnerian tones, paired with Sullivan's melodic beauty, lift the narrative, especially during the love duet of Marcus Farnsworth's Strephon and Ellie Laugharne's Phyllis. Their voices intertwine, harmonising effortlessly, evoking memories of classic love stories. Samantha Price's Iolanthe moves the heart with her poignant climactic ballad, while John Savournin brings a refreshing youthfulness to the role of the Lord Chancellor, enunciating each word with precision.
The fairies, under McCrystal's direction, are not the delicate beings one might imagine from bedtime tales but are more audacious, seizing every opportunity with the peers, reminiscent of a Bullingdon Club gathering. Their mischief is only heightened by Lizzi Gee's choreography, which proves that Sullivan's music is as much a call to dance as it is to sing. The peers, with their martial vigour, juxtapose the intoxicated merriment of the fairies, crafting an atmosphere that can only be described as enchantingly chaotic.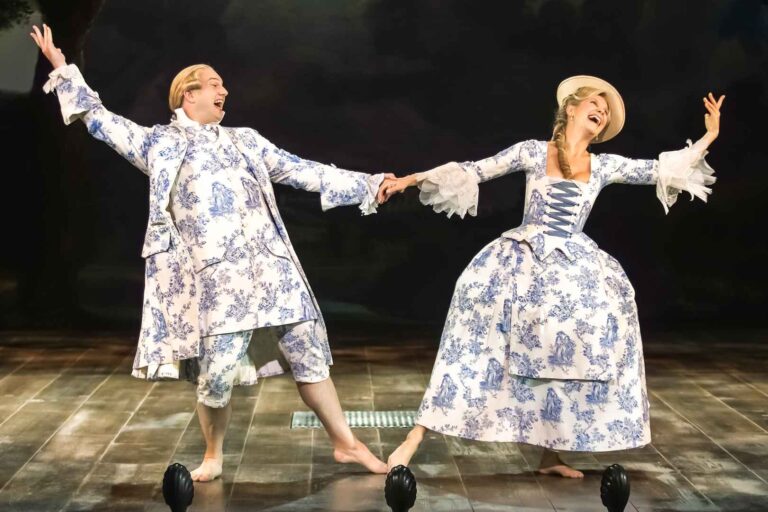 Designed by the late Paul Brown, the set is a marvel of theatrical craftsmanship. It seamlessly transitions from verdant meadows to the grandeur of Westminster's halls, and, in a masterstroke of drama, the entrance of the Peers is heralded by an actual-size steam-engine bursting through the backdrop, earning its own spontaneous round of applause. This dynamic stagecraft consistently captivates, immersing the audience deeper into the fantastical realm of 'Iolanthe'.
Although the enchanting realm is depicted with marvellous precision, it's the modern allusions that give this rendition its brilliance: subtle references to figures like Jacob Rees-Mogg, timely political undertones, and a sharp commentary on the Arts Council. While 'Iolanthe' may be rooted in a bygone era, its essence pulsates with contemporary resonance.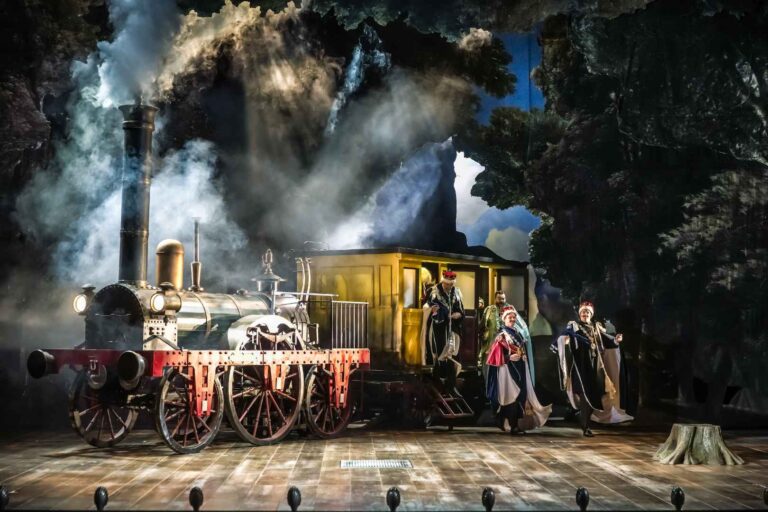 For those seeking an escape, wrapped in melodies and a dance between satire and fantasy, a night at the Coliseum awaits with Gilbert & Sullivan's classic. One leaves not only with a tune in the heart but also a chuckle, courtesy of the delightful modern-day nudges. Book now, and let yourself be whisked away into a world where fantasy meets the very contemporary reality of love and politics.
A Timeless Dance of Satire and Fantasy
Summary
The London Coliseum's rendition of Gilbert & Sullivan's 'Iolanthe' seamlessly marries classic with contemporary, enveloping the audience in a world of whimsy, politics, and enchanting melodies. With nods to both Victorian figures and modern-day politics, this operetta proves its timeless relevance, all while delighting with audacious fairies, poignant ballads, and splendid choreography. An enchanting escape not to be missed.