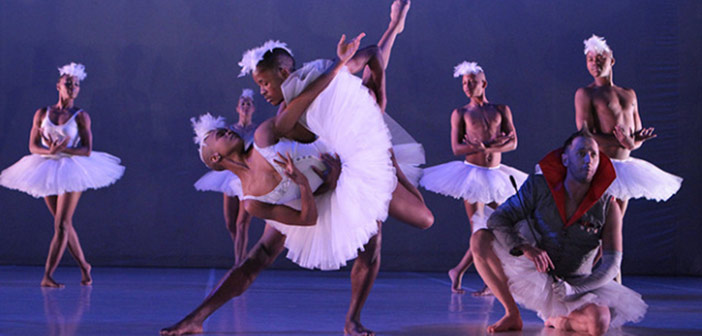 The opening ten minutes or so of Dada Masilo's Swan Lake at Sadlers Wells is introduced to the audience by means of a running commentary by the MC, who is also Siegfried's mother. Both the male and female swan dancers in the show are dressed in tutus, the men bare-chested, whilst the women have their tops covered… well… for most of the show.
This production of Swan Lake was clearly intended to be light-hearted, humorous take on the worlds most well know ballet, whilst pointing a comic finger towards the elitist idea that Swan Lake should stick to a rigid sense of conformity, taking a cheeky laugh at those who maintain a sexist, formulaic way of portraying this great ballet.
There are plenty of laughs for the audience from the start, but although Masilo's portrayal is a subversion of Swan Lake, it does, however, stick to the main plot, and includes an overall aesthetic that is in keeping with Swan Lake, rather than rejecting it outright. The plot and interactions of the main characters are mainly in keeping with a more traditional Swan Lake, with the exceptions of a few gender changes.
Worth a Look
Summary
It was certainly an enjoyable change from a traditional portrayal of Swan Lake, and the dancers were captivating in their artistry and funny at the same time. Worth a look.